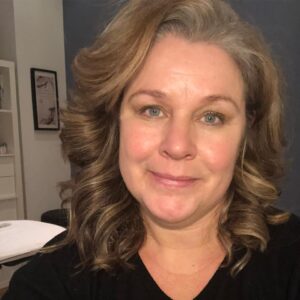 "Mijn missie is om jou weer te verbinden met je echte ware zelf, je hart, je ziel en universum en dat je kan gaan leven vanuit vertrouwen en liefde".
Passie voor acupunctuur 
Al sinds 2005 ben ik in aanraking ben gekomen met acupunctuur en Tai Chi en ben ik gefascineerd geraakt over de effecten en filosofie van Traditional Chinese Medicine (TCM). In 2006 ben ik Klassieke Acupunctuur gaan studeren en al tijdens mijn studie werkte ik als assistente in de Praktijk van Dr. Sun in Den Bosch. Daar heb ik jaren gewerkt en heb toen ook meegeholpen met het schrijven van zijn boek "Warm Medicine". Al sinds 2011 bestaat Praktijk Simone in de Weezenhof Nijmegen en tot op de dag van vandaag ben ik een bevlogen acupuncturiste. Je bent nooit uitgeleerd in de Chinese Geneeskunde en we worden all round getraind. Het is een praktische totale geneeskunde die voor vele klachten een oplossing heeft. Naast vele jaarlijkse bijscholingen, ben ik in de loop der jaren gespecialiseerd in Gynaecologie (Vrouwenklachten) en Pediatrie (Kinderen). Naast Klassieke acupunctuur werk ik ook veel met de Balansmethode van Dr. Tan, een aparte stroming binnen de acupunctuur die gericht is op pijnbestrijding en herbalanceren van het lichaam. Naast het inzetten van Chinese Kruidenformules krijg je vaak ook leefstijl- en voedingstips mee. Acupunctuur is juist heel goed inzetbaar bij gevoelige mensen die graag op een natuurlijke wijze aan hun gezondheid willen werken.
Bezield werken 
Ik heb van mijn gevoeligheid mijn kracht kunnen maken die ik inzet bij behandelingen. Persoonlijke afstemming en aandacht staan voorop in de behandeling waarbij ik graag de tijd voor je neem, oprecht ben, soms een spiegel voor hou maar bovenal handvaten en adviezen aan je meegeef. Je krijgt vaak praktische tips en adviezen hoe je met je sensitiviteit en intuïtie om kan gaan, hoe je je beter kan ontladen en hoe je je energetisch en tegen prikkels kan afschermen. Dit alles maakt dat je beter bij jezelf kan komen en blijven en kan gaan ontdekken wie je echt bent en wat je echt van binnenuit wil.
Luisterkind-afstemming
Ik ben in 2017 officieel geslaagd voor de opleiding Luisterkind-Werker. Je kan een afstemming op afstand met behulp van een foto voor jezelf of voor je kind aanvragen bij me. Je kan dan het beste eerst contact met me opnemen via 06-8328516 of per mail.
paranormaal helderziend lichtwerker heldervoelend zielewerker helderwetend  simone dennissen